French River Recap 2021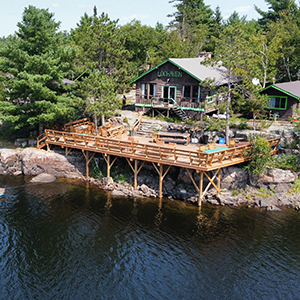 Seasons greetings to all,
We hope this newsletter finds you well. Another year has passed and when reflecting back a year ago, never did we think we would repeat a recap of operating a fishing lodge under a pandemic situation. We refuse to think anything other than positive thoughts for next season.
Ice out was early which got us to the island April 21 and on arrival we were faced with a significant electrical hit. There were lines down everywhere. We have been discussing the need for an upgrade and now was time to put words into action. Our goal is to bring all electrical components to ESA standards. We contracted the project and a crew of electricians worked for 3 weeks on the buildings replacing panels, repairing faulty wiring and cleaning up all hazards. They worked hard! Unfortunately the sub contract work for 13 pole installation and distribution did not go so well and remains pending until spring. Good news is that all the materials are at the island so we hope to have the project completed before opening day.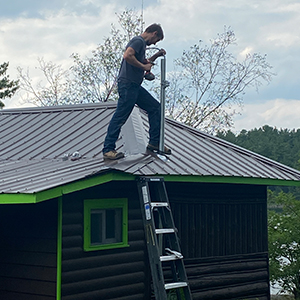 The river was at an all time low which gave us the opportunity to replace our front fish fry deck. We purchased most of the lumber last year, thank goodness! We contracted the work locally to Nick and Andy Brubaker and they started the project in April and finished 9 days later. This was while traveling to and from the island each day in below freezing temperatures. We could not be more pleased with their work.
Opening day was May 14 and lodges in Ontario were permitted to be open, however, there was a stay at home order. This created great confusion but it was apparent to us that we were not in a position to open before it was lifted without encouraging travel violation.
It was lifted on June 2 and some restrictions were eased so we opened our doors to groups within the same household. The kitchen was up and running but the dining hall was not permitted to be open so all meals were delivered to the cabins.
On June 7 the province entered step 1 of reopening and this allowed us to offer outdoor dining to parties of up to 4 people. We purchased picnic tables – a different approach from last year when we moved our dining tables outside. Despite the allowance to offer outdoor dining, we still gave the option of delivery of any or all meals to cabins.
Ontario moved to step 2 of reopening on June 30. Groups of 6 were now allowed to dine outdoors. Outdoor gatherings of up to 25 were permitted which brought back our weekly fish fry and BBQ. Our new deck was plenty big enough to social distance and provide each group with their own table.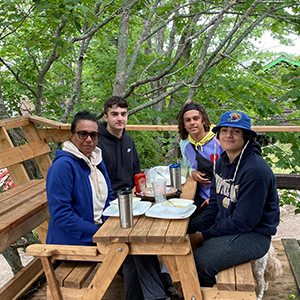 We entered stage 3 on July 17 and we were finally permitted to open the dining room. So, at that time, we were operating indoor dining, outdoor dining and delivery to cabins.
With the situation of uncertainty and the border remaining closed, overall June & July bookings were slow but things got back on track in August when we got very busy. The border opened August 9 and we were finally able to welcome and reunite with American guests. Many were still apprehensive because of so much misconception generated in the media. Those who crossed the border found it easier than ever. That is after downloading vaccination confirmation and Covid test results to the ArriveCAN app. There was even a few situations where test results were not received in time but these guests found pop up tents close to the border which gave them result within 30 minutes. Reservation gaps due to cancellations were quickly filled with domestic travel. August, September and October were the busiest we have seen in years which gave relief to revenue lost in earlier slow months.