Your stay at Crane's Lochaven Lodge will be one to remember
Your fully serviced private log cabin with a welcome bottle of our own labelled wine will set the tone for your holiday. There are 15 cottages on individual lots throughout the grounds. Each one offers a beautiful view of the French river from a private sun deck.
The comfortably furnished cabins have automatic heat, at least one four piece bathroom and daily maid service to ensure a relaxing stay. Cottages range in size from one bedroom with sitting area to 6 bedrooms with 2 living rooms.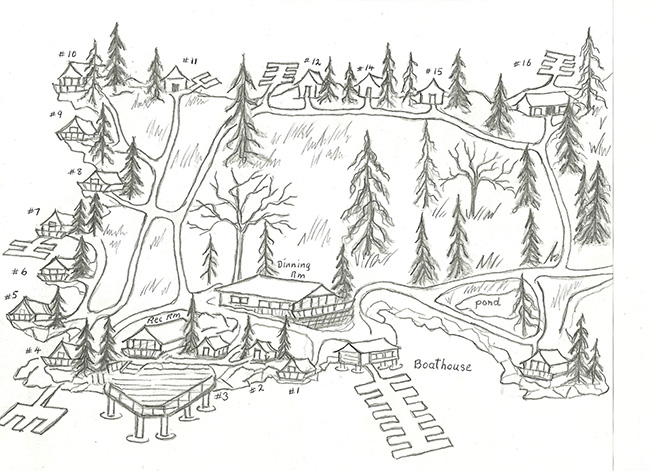 Cabin #1: 1 bdrm. w/King bed, 4 pc. bath, front bed-sitting room.
Cabin #2: 1 bdrm. w King bed, 1 bdrm w 2 single beds, 5 pc. bath, front sitting room
Cabin #3: 1 w 2 single beds, 4 pc. baths, front sitting room.
Cabin #4: 1 bdrm. w/Queen bed, front bed-sitting room w/single bed, 4 pc. bath
Cabin #5: 1 bdrm. w/Queen bed and single bed, 4 pc. bath, front sitting room
Cabin #6: 1 bdrm. w/Queen bed, front bed-sitting room w/2 single bed, 4 pc. bath
Cabin #7: 1 bdrm w King bed and single bed, 1 bdrm with 2 single beds, large sitting room w/woodstove and single bed, one 2 pc. bath and one 4 pc. bath
Cabin #8: 2 bdrm., w/Queen bed & Single bed in one, 2 single beds in other, sitting room, 4 pc. bath
Cabin #9: 1 bed-sitting room w/King bed and 1 single bed, 4 pc. bath
Cabin #10 through #15: 2 bdrms. w/1 queen and 1 single bed in each, large sitting room, 4 pc. bath
Cabin # 16: 6 bdrms., 1 Queen, 1 double, 10 single beds, 2 large sitting rooms, fireplace, one 3 pc. bath and one 4 pc. bath