The French River
is rated as one of the top Walleye areas. Lunker sized small mouth bass, tackle smashing musky and northern pike are being caught in increasing numbers and size. The early spring season is best for volume of walleye and pike. Late spring and summer bring the added challenge of small mouth bass and musky. The fall season is a world to itself, gorgeous colour, warm days and cool nights make this our favourite time of the year and the fish are hungry. Anglers can also land sturgeon, whitefish and a variety of pan fish such as perch, etc. Grappling with a Channel catfish in fast water is also a challenge and they make great appetizer at our Fish Fry.
Fishing is a sport, not a science and a satisfying fishing holiday can always be enhanced with the help of a professional guide. One of the highlights of a guided fishing trip is the shore lunch that goes with it. We also offer a ready to go shore lunch if you want to have one on your own. All you need to add is the freshly caught fish.
Releasing fish within the slot limits means you are releasing the breeding fish. This photo shows one bass under the 13″ limit and one bass over the 17″ limit. Any Bass that are caught between these two sizes must be released.
Slot Sizes: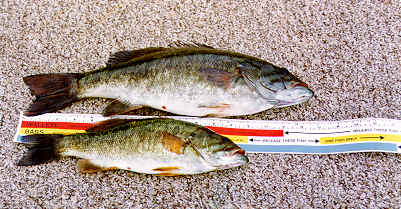 Walleye – 40-60 cm (15.7 – 23.6 in)
Pike – 53-86 cm (21-34 in)
Bass – 33-43 (13-17 in)
Muskie -minimum 122 cm (48 in)