Cranes Lochaven Lodge 2022 Season Recap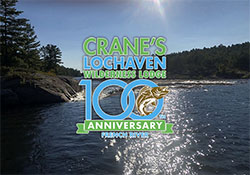 We had a great season! We truly believe this pandemic is behind us and we anticipate an even greater 2023 season. There is no denying a decline in occupancy in 2020 and 2021, mainly due to the provincial lock downs and border closures. However, in retrospect, the ending result proved to be advantageous in our situation. We love our secluded setting on a private island on the French River but with that comes disadvantages. After ice out we barely have time to get ready for opening let alone take on major renovations. With so few people the first half of the season 2 years in a row, it allowed us to do just that! Our upgrades must be shining because we have had many guests question if we are preparing to sell. The answer by the way is "no!", but it is very nice that all our hard work is so apparent it has led to this thought. We feel it is important for us to share this with you. More on the reno's later.
Another positive…never thought it would be possible to have an even stronger appreciation for greeting you all at the dock. The many reunions have been wonderful. Now with all restrictions lifted at the border we anticipate so many more. We also love the influx of domestic travel, primarily from Southern Ontario and the Greater Sudbury Area.
A snap shot of 2022 begins with us arriving to the island on April 23. We did not expect to make it that day but we persevered through the ice in our steel boat and a few hours later we reached our destination. Early ice out allowed us an extra week to get ready for our first May opening in 3 years which was a good thing because we were full. There was apparent positive energy that permeated through the lodge. Everyone was just so happy to be out!
In terms of the weather… overall fantastic!
The lodge is all shut down and we are settled in our house located in Wolesley Bay. Gracie started College in Ottawa in September. We are adjusting to our empty nest and are looking forward to our family gathering at Christmas. We have no upcoming vacation plans as of yet but anticipate some last minute travel.
We hope you enjoy reading the remaining pieces in this newsletter. You can download our printable version here.